Are you in Istria and want to taste some of the world's best olive oils and visit olive groves, or do you want to order olive oil online? Check out our recommendations for destinations, homes of Istrian olive growers and oil mills!
Istria - a region of olive oil
Istria is the only region in the world that has been named the best olive growing region in the world for the sixth time in a row according to Flos Olei, the world's guide to extra virgin olive oils. Extra virgin olive oil is a high quality oil with a strong aroma and spiciness and a strong bitter taste. Such oil is obtained from the mechanical processing of the olive fruit without any additives of refined oil, and is therefore highly valued and considered very healthy. Some of the most famous olive varieties of Istria are Buža, Istarska Bijelica, Leccino, Frantoio and Pendolino.
Oils Ipša
The story of Ipša oils is a family story that has lasted for 30 years. The family is engaged in the production of high quality olive oil, but also in the production of wine and truffle hunting. By visiting their property in the village of Ipša near Livade, you can enjoy all the most popular products of Istria. When we talk about oils, Ipša offers oils of the varieties Frantoio, Istarska Bjelica and Leccino and a combination of these varieties. Apart from Livade, you can also buy their products online.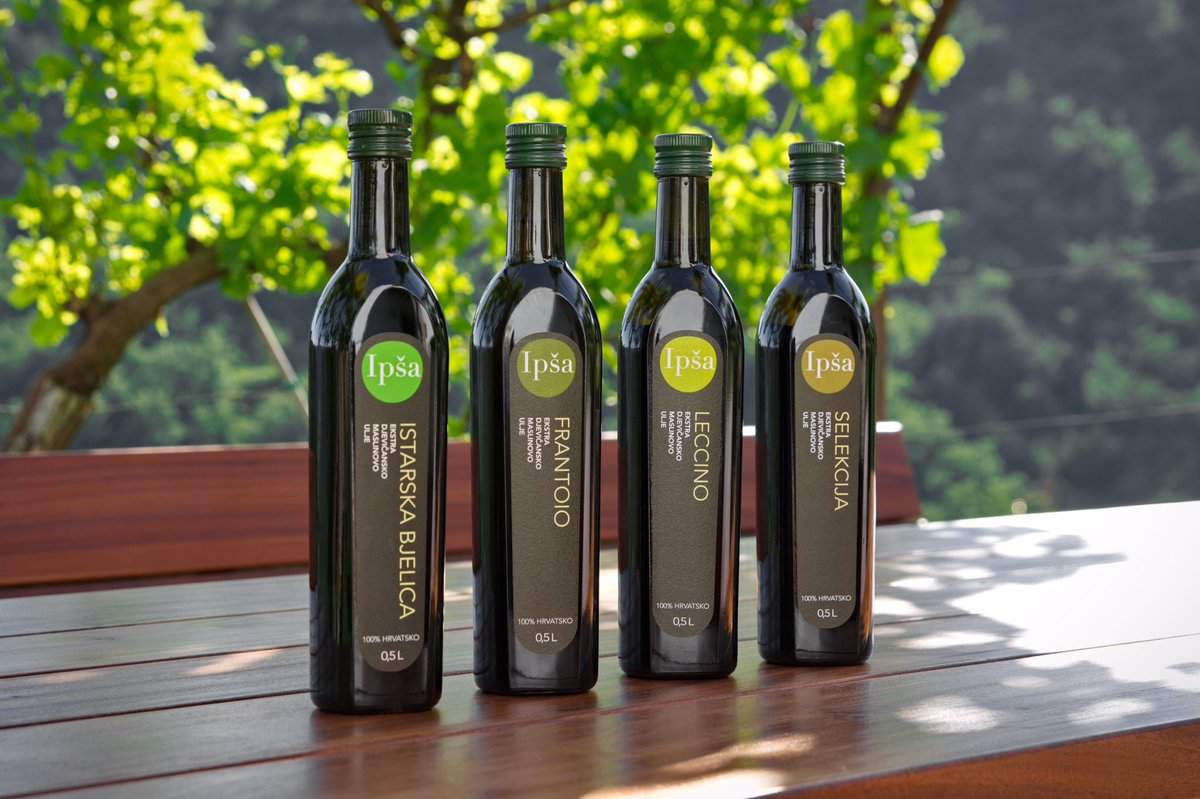 Stancija Meneghetti (Bale)
Meneghetti is a resort near Bale, and it was shortlisted for our visit because Meneghetti oils are highly rated by the already mentioned Flos Olei international guide to olive oils. In addition to the olive grove, the resort consists of accommodation complexes, restaurants and vineyards, all of which look like in a movie. The best way to experience all this is to schedule a tasting in the Meneghetti cellar, but you can also buy the products on the web shop.
Olea BB (Rabac)
Olea is one of the largest producers of olive oil in Istria, and despite the quantity, the quality of their products is unquestionable. We highlight 24 different olive sorts, more than 20 years of experience and 25 world awards for the quality of olive oil. You can find the largest selection of olive oil at them in Rabac or on their website.
Chiavalon (Vodnjan)
Chiavalon is another family story that last more than 25 years. With its 7,500 trees, the Chiavalon family produces 100% extra virgin olive oil, and the production is completely organic. You can find and order Chiavalon products on their web shop, but you can also visit them in Vodnjan. Book a tasting tour and this manufacturer will introduce you with his olive yards and show you the process of oil production.
Ol Istria - Agrolaguna (Porec)
Ol Istria is a brand of olive oil from the largest Istrian producer, Agrolaguna from Poreč. Agrolaguna owns more than 60,000 olive trees in olive groves in the vicinity of Poreč. You can find and buy their products on their web shop or visit their stores in Poreč, Rovinj, Mali Lošinj, Pag or Split.
If we have encouraged you to take the paths of Istrian olive oil, feel free to contact us and be sure to see our offer of accommodation near Istrian olive growers.