Pula - the ultimate guide to exploring Istrias capital!
Welcome to one of the most visited destinations in Istria, Pula! Situated near the southern tip of the Istrian peninsula, the city is both industrially important and historically charming. Big cranes loom over the massive shipyard, while ancient Roman ruins are scattered throughout the Old Town. Unlike some other historic towns in Croatia, Pula is a real working city and not only a tourist destination.
What to see
Arena
Did you know that the Arena in Pula is one of the most complete in the world? This wonderful monument dates to the first century and one of the main reasons why it has survived, is because medieval knights were still using it for their tournaments thousands of years after it was built. While walking around the city of Pula you will notice that there is a strong Roman influence in Pula's history, evidenced by the above mentioned mostly intact Roman Colosseum that dominates the city's center. The Arena is an assuming presence in Pula, one of the absolute best things to see in this town!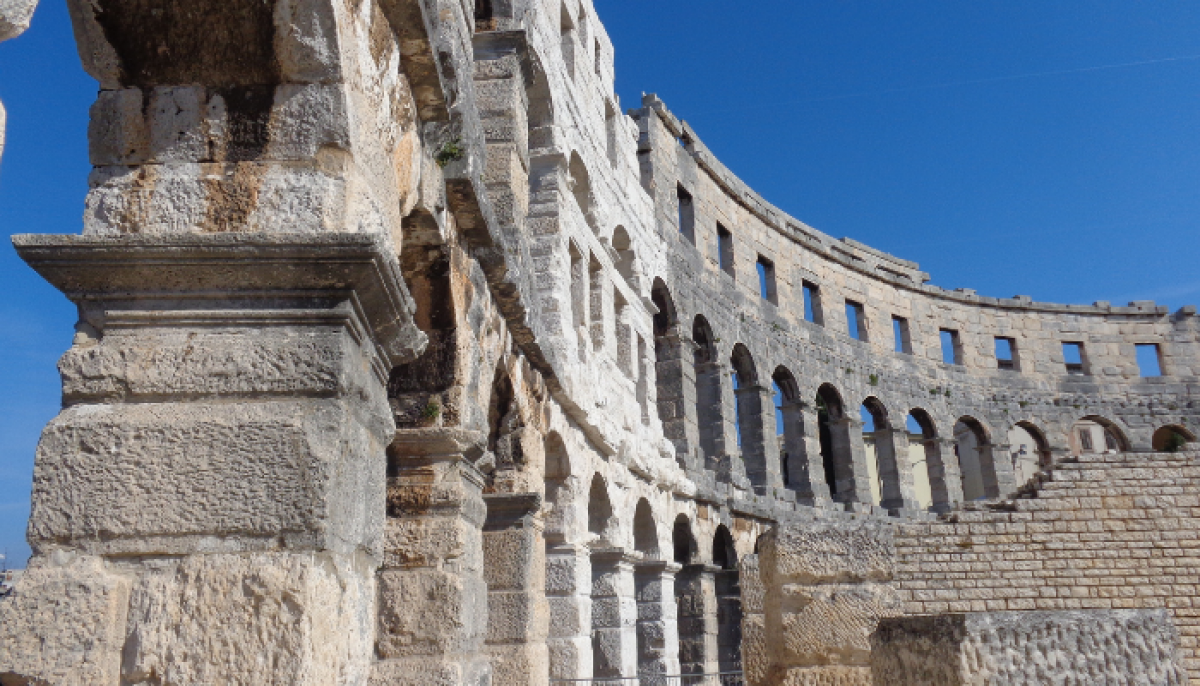 Forum
Just like in Roman times, Pula's forum is the city's main square. Whenever there is a big event in town, you can just assume that something will be happening on the city forum, just like in old Roman times when that was the center of gathering.
Arch of the Sergii
This triumphal arch is a slightly older Roman monument. It was erected to commemorate the powerful and mighty Sergii family's participation in the pivotal Battle of Actium in France.
It dates to about 30 BC and considering the age and time when it was built, it is still in great shape! When the arch was built, many many years ago, it was a city gate that was leading up to the naval port.
Temple of Augustus
When you find yourself on the forum, the temple is something that you can not miss. This grand historical building is one more reminder of the strong Roman influence in this city. The temple was built during the reign of the mighty Augustus, which makes it more than 2,000 years old.
The reason why the temple is in such good shape is because it was converted into a church when the Romans adopted Christianity.
Kastel
Set at the top hill in the middle of Pula, Kastel is a Venetian fortress from the 1600s.
You will notice, mainly from air and maps, that the strong looking walls are in a star shape, which was a groundbreaking design to repel artillery after the arrival of gunpowder. Kastel was created to be the Venetians' main stronghold, defending the harbour of Pula, as well as the entire northern Adriatic Sea.
The Gate of Hercules
Although this landmark may seem modest, it's one of the earliest pieces of Roman heritage still standing in Pula. The arch has an eroded carving of Hercules, but you can also make out the names of two contemporary Roman officials: Gaius Cassius Longinus and Lucius Calpurnius Piso.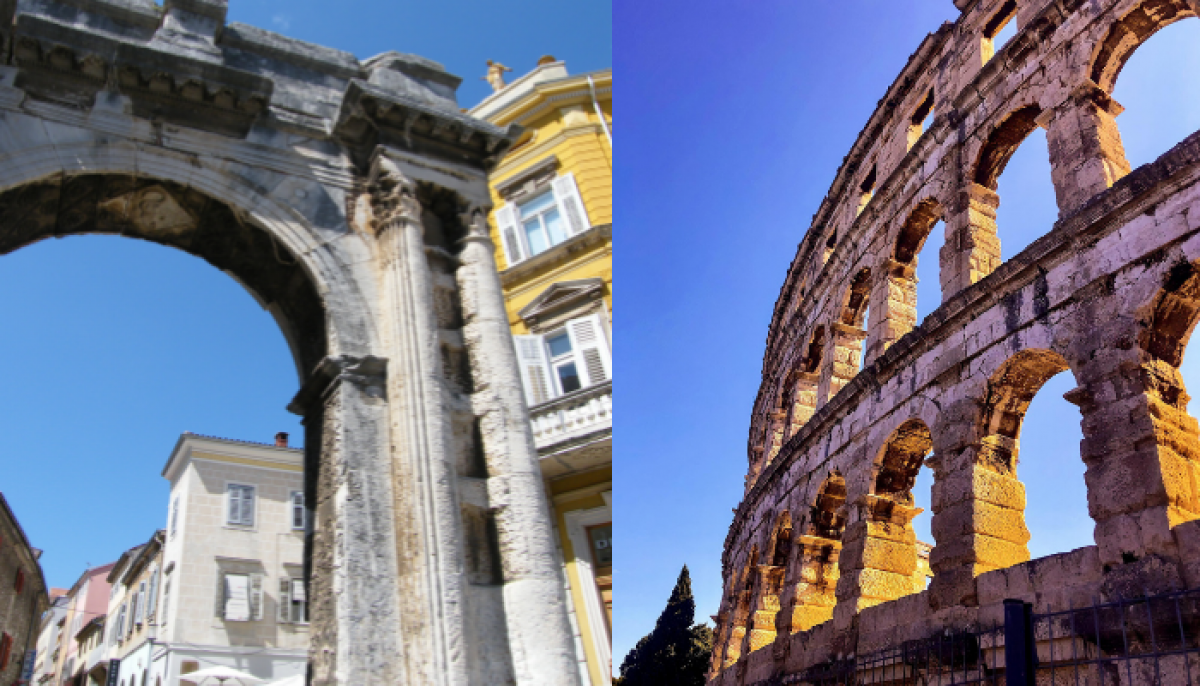 Small Roman Theater
Complete your tour of Pula's Roman sights at this small and hidden theater on the hillside. These evocative ruins are described as "small", because Pula's other, larger theater was located outside the city walls.
It's a low-key attraction, hidden at first glance, that attracts fewer tourists but that is even better as that means fewer people in your holiday photos ;)
Where to eat
After all that walking and sightseeing, a refreshment and a nice meal is a must! We bring you a simple list of the best restaurants in Pula!
Amfiteatar
Boccaporta
Sopravento
Ribarska koliba
Noy asian cuisine
If you want to just grab a quick bite and explore even more than some of these places are the ones you should visit!
Hook & Cook
Street food Two
Pizzeria Piccolo Porto
Piantina
Where to stay
Pula is a great place to make your base for exploring the rest of Istria. It is well connected and basically everything is within 30minutes to 1h. (even Italy and Slovenia). On our site you'll find a list of apartments and holiday homes in Pula at affordable prices! But just in case, here are a few of our favorite picks:
Rent an apartment in Pula with a pool and walking distance to the Arena. Modern apartments with a city view in the historical city center of Pula; You can't miss that!
Stylish Villa Magica with private pool and BBQ
Modern and magical Villa Magica with a private pool, ideal for a relaxing family holiday in Loborika, only 10 minutes by car from Pula. Villa Magica can accommodate 8 persons. Come to Villa Magica with your family or friends and spend your unforgettable vacation in Istria..
Villa Agri with large Garden and Pool, near Pula
Modern furnished holiday home with private pool, near Pula. Very nice and tastefully furnished villa with a nice garden with a pool of 31m2. Villa Agri is an ideal holiday home for 6-8 people. The garden has a barbecue, swings, trampoline and deck chairs, ideal for entertaining!
Villa Nina is located at the end of the peaceful village of Valtura, not far from the popular tourist destination of Pula. The house is located on a 1500 square meters big property, so privacy is guaranteed here. The scents of the sea and fresh lavender, the taste of home-made food, fresh fish and wines, the sound of birds and crickets is just a small part of the collage that you will find staying here, owned by creative artists.
Villa Pomer with a private Swimming pool near the Sea
The charming Villa Pomer with a private swimming pool and a fenced yard, at a pedestrian distance from the beach, is the perfect choice for those who love the sea and the sun. Villa has the capacity for 10 persons and consists of 4 bedrooms with private bathrooms.If you prefer to spend time outdoors, you will definitely enjoy your own private pool, prepare delicious dishes on the charcoal grill and dine under the blue sky while the smell of the Adriatic travels to all your senses.
Be sure to check out our other properties, we offer a selection of vacation homes for everyone at the best rates! We even have some special offers ;)