The railway that connected the ports of Trieste and Poreč with many towns in northwestern Istria from 1902 to 1935, known as Parenzana, is today a well-known tourist attraction and one of the most attractive cycling routes. In 2008, in the project "Parenzana - the path of health and friendship", the trail was completely renovated and converted for pedestrians and cyclists.
Through several renovation projects, Parenzana has become the most visited path for pedestrians and cyclists in Istria. The total length of the trail is about 120 km, while it passes through Istria in the length of 80 km and connects more than 30 larger and smaller places, numerous attractions, wineries and olive growers. That is why it is called "the path of health and friendship".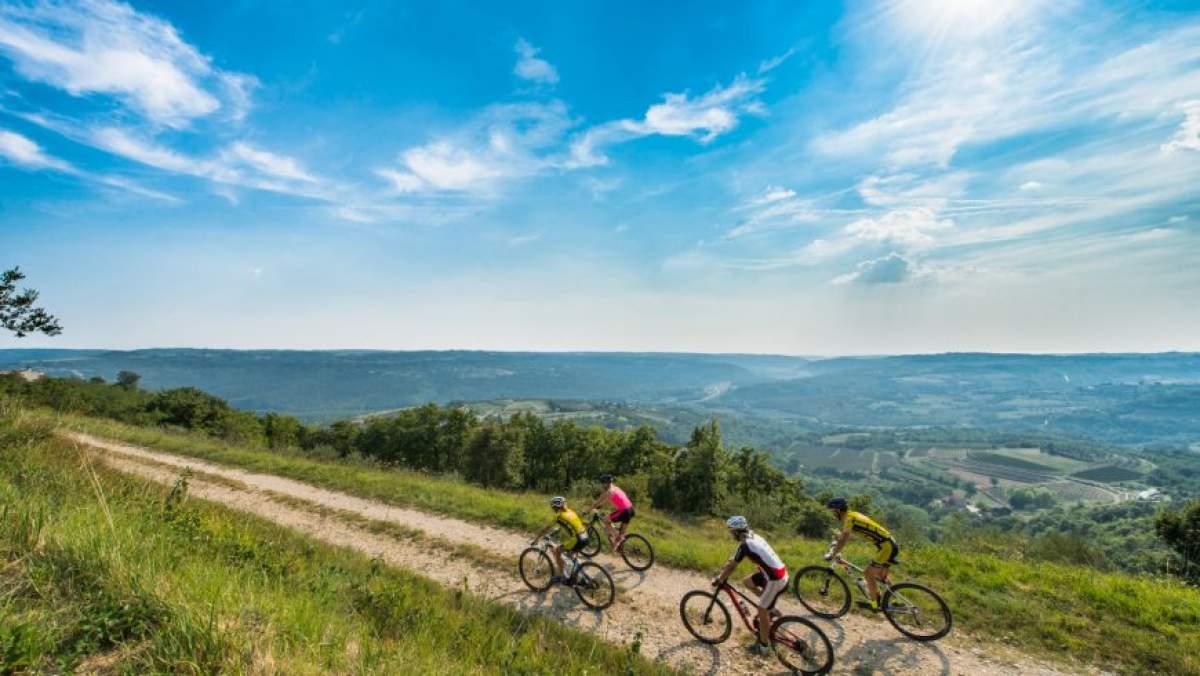 Parenzana bike trail
The Parenzana bike route is 80 km long. It starts in Plovanija in the north of Istria and passes through the places of Northwestern Istria: Buje, Livade, Grožnjan and Motovun. These places are tourist attractions of Istria, home to many winemakers, olive growers and truffle growers. The bicycle path from Motovun continues towards the west coast of Istria and passes through the places Karojba, Vižinada, Višnjan, Nova Vas, and ends in Poreč.
The "Parenzana" bike path is quite flat and suitable for everyone. The highest points are Vižinada and Grožnjan, and they are with an altitude of 310 meters and the most attractive stops. The trail is rich in tunnels and bridges, the surface is mostly graveled and is therefore only suitable for MTB bikes.
Parenzana hike trail
The entire section of Parenzana can be passed on foot, but if you go on foot you will not make everything in one day, so you must choose your section carefully. The most attractive section on Parenzana when you go on foot is the one that starts in Grožnjan and goes towards Livade.
You will go through 6 tunnels and 4 viaducts. This section is about 20 km long. You can walk from Vižinada to Karojba and Motovun, which is also an attractive and slightly shorter section of 10 km.
Activities and atractions at Parenzana
1. MTB Bike race
At the end of April in Vižinada there is a recreational MTB race called "MTB Spring Parenzana" for all who want to apply. The race is driven largely along the Parenzana section. A similar recreational MTB race on Parenzana will be held at the end of September in Vižinada.
2. Quad Tours
If you are interested in quad tours, book a quad tour at Istra Grand Tour and explore the slopes of Vižinada through which Parenzana passes with a dose of fun and adrenaline!
Winaries and Restaurants
While walking or cycling through Parenzana, you can visit the households of winemakers, olive growers and truffle growers and try their products. If we start from Poreč, in Nova Vas you can visit Vina Brčić, in Višnjan Vina Poletti, Vina Gerzinic. In Vižinada, you must not miss the Vina Deklić cellar and the Rossi winery and distillery. Walking further towards Karojba, you will come across the famous wineries Vina Fakin and the Roxanich winery and hotel in Motovun.
The next destination on Parenzana is Livade, home of Truffles. Here you must visit the restaurant and shop Zigante and try the best truffles in the world. Vina Franković is located in Buje, and on the way to Plovanija you will spot the Restaurant La Parenzana.
Attractions at Parenzana
In the town of Nova Vas is the most famous cave in Istria, Baredine Cave. Baredine Cave is 130 meters deep and is decorated for visitors and a favorite tourist summer attraction. Baredine Cave is home to an endemic species, the Human Fish (Proteus Anguinus) that can be seen at the bottom of the cave in one of the cave pools.
The Višanjan Observatory, built in 1993 and led by scientist Korado Korlević, is home to numerous astronomical discoveries of significant importance.
In the town of Vižinada you can see the old Coal Locomotive that operated in the golden age of Parenzana, from 1902 to 1935.
Visit Parenzana
Parenzana is an ideal choice for an active vacation, with a tour of all the attractions that connect the trail. Apart from summer, it is good to wisit Parenzana in the spring and autumn, when it is more suitable for walking and cycling. If you are heading to Istria and want to visit places on Parenzana, be sure to check out our offer of holiday homes and apartments in Istria.